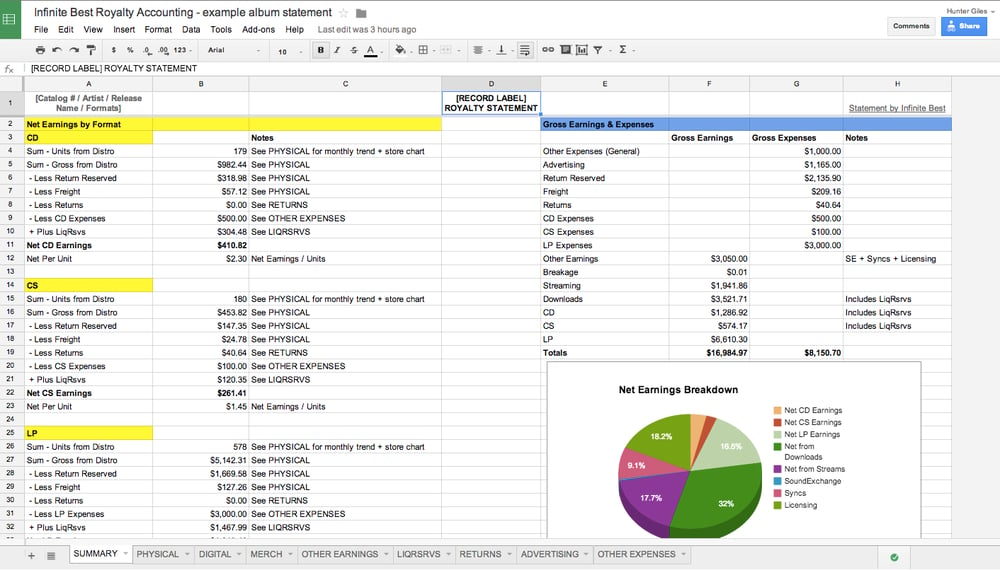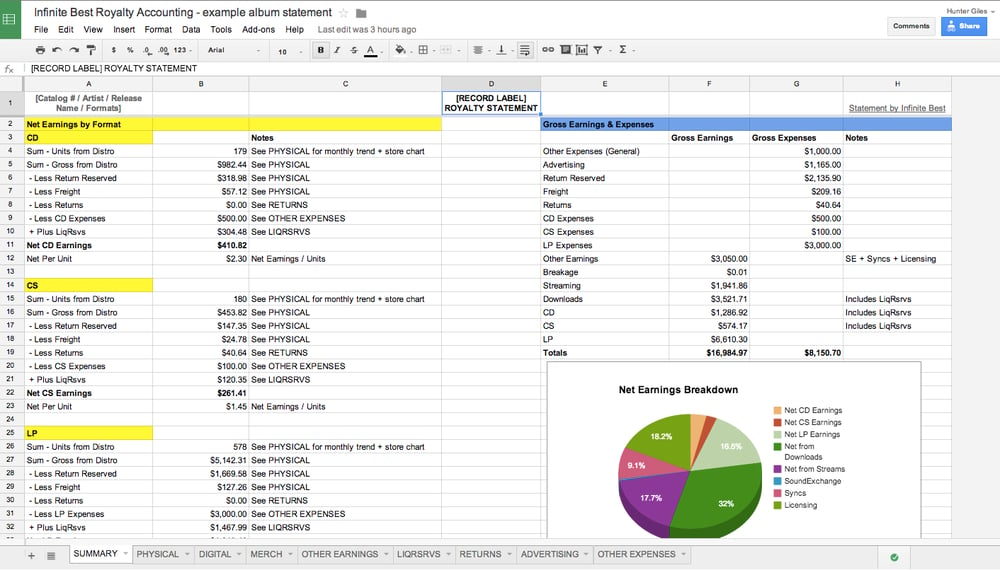 Royalty Accounting
by Infinite Best
$25.00
Infinite Best will do your record royalty accounting for not even that much money.
Track record income like a goddamn pro:
Designed to handle all label/master-side income streams: physical, digital, merch, syncs, licensing, SoundExchange, etc. Split payouts and track progress across multiple statements.
Turn the flood of data into your new best friend:
Format breakdowns, monthly trends, top buyers, digital platform ratios, sales by country, + more. The insight comes with, yall.
Keep your artists in the financial loop:
Easily share statements with artists on a View Only basis at any point in the process. Forward any questions and we'll help you answer them.
Stay organized:
Album expenses, distro statements, sales invoices, all can add up to a helluva paper trail. Forward emails as they come in or mail us a duct taped ball of receipts. Everything will be properly labeled/stored in Google Drive alongside your album statements.
Bottom line:
Cost for Royalty Accounting services consists of a setup fee ($100-$1000+ pending catalog size // state of current accounting), and then $25 per statement on a 6 month final reporting basis, more/per for a quarterly/monthly basis, less for yearly.
Let's talk:
This system is designed to work for catalogs large and small, but if you want to discuss another arrangement, hire me for a specific task, or teach you how to do this yourself don't hesitate to reach out - hunter@infinitebest.net - 203.722.2762
Example Statement-
https://docs.google.com/spreadsheets/d/1-6T4O5DEzcmLGhzZmnLGW1aJb1a5g12PsxTzKjDg0dw/edit?usp=sharing
Current Clients:
Burger Records
Underwater Peoples
New Images Limited
Infinite Best Recordings
Past Clients:
BaDaBing Records
20.20.20 Records
Pompeii Records